The Roslin – Choose your layout
ANY QUESTIONS?
Fill out the form below and one of our door specialists will get back to you ASAP. Alternatively, call us on 0131 629 5640.
PEACE OF MIND ON YOUR PURCHASE
ALL OF OUR DOORS COME WITH A 10 YEAR GUARANTEE
We pride ourselves not only on the fantastic products we offer, but also on the high standards and quality of our installations. That is why your new door will be guaranteed for a period of 10 years, if you choose to have it installed by one of our expert fitters. This guarantee includes handles, hinges and locking mechanisms.
You can find out more on our 10 Year Guarantee Page
10 YEARGUARANTEE
ON EVERY DOOR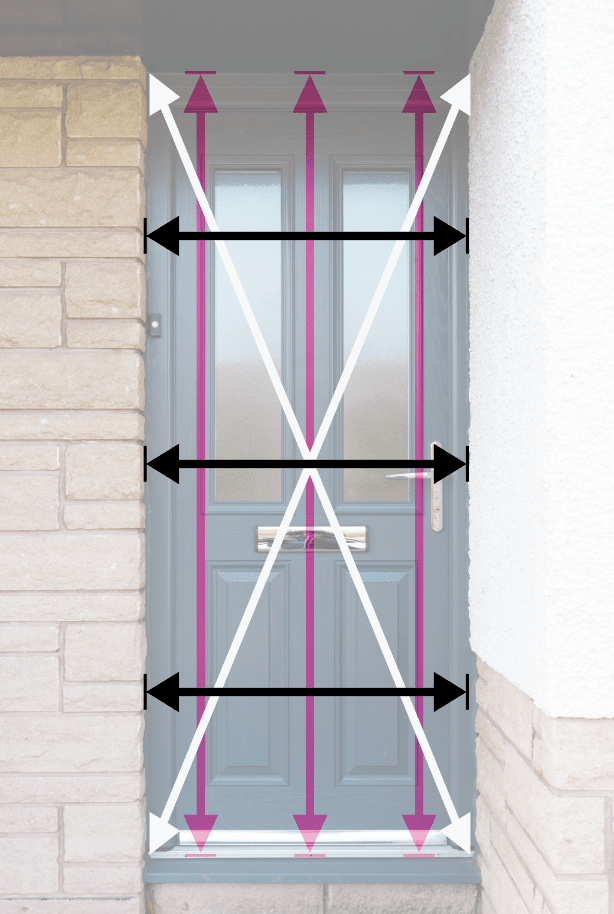 Measurement Guide
You are measuring the overall width and height of the door including the door, the frame and cill.
WIDTH: Measure in 3 points; top, middle and bottom and take the smallest measurement and deduct 10mm.
HEIGHT: Measure again in 3 points; left, centre and right and take the smallest measurement and deduct 10mm.
DIAGONALS: Ensure the opening is square by measuring the diagonals. There should be no more than 5mm difference between each measurement.
Handle Guide
Lever/Lever
This is the most common. You have a lever handle to open and close the door from both sides. You lift the handle up to throw all the multipoint locks and turn the key to lock. To unlock turn the key and push the handle down to open.
Pros — Easy grip and you're in control of locking the door and won't get locked out (unless you lose your key)
Cons — if you forget to turn the key its not locked and someone can just the push lever down and walk in.
Lever/pad
The Lever Handle is inside with a pad handle outside, the difference being the handles are independent of each other.
Pros — if you pull door to from inside it locks on the latch, so no one can follow you in, or if you forget to lift handle and turn the key on way out it is locked on the latch.
Cons — if it slams shut behind you and you don't have keys you are locked out.
Slam Shut
These locks are generally designed for pull bar handles but can be used with a knob and finger pull. They don't have level handles; they have multipoint latches. To lock from inside you turn the key or thumb turn to wind out the deadlock. Externally you pull to and all latches engage, and you turn key to deadlock.
Pros — no level handle, pull door to and its locked by the multi-point locking system
Cons — if it slams shut behind you and you don't have keys you are locked out. If your grip isn't so good, turning the key inside to lock can be fiddly.
---
They are all, equally security rated when locked, it's a user preference and door style choice, please make sure you choose the best option for your needs.